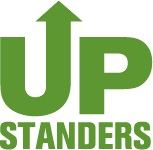 Hello MS 447 Families and Friends,
MS 447 is proud to announce our First Up Stander's Day.  On Thursday, December 19th, our 8th graders will be the first to participate in this event.  Students will be watching the acclaimed documentary "Bully" by Lee Hirsh.
While the stories in the film examine the sometimes dire consequences of bullying, they also give testimony as to what school communities – parents, staff, and students – could do in the face of such adversity.  We will examine the many roles we play in the sometimes inevitable demonstration of bullying behavior.  Students will be introduce to the idea of 'Up Stander' as perhaps the most critical role in breaking the cycle of such behavior.   Most importantly we to aim to bring greater awareness, foster empathy in our community, and take action as a school regarding this issue.  We will use this film and planned lessons and activies as catalyst for meaningful discussion.  We will continue to examine this topic through our advisory program in the days following this significant event.  Our hope is that by identifying our own roles and  responsibilities we begin to take ownership and recognize ways we can each initiate change in our school and society as a whole.
Please be aware that on Up Stander's Day, regular classes will be suspended.  Students are to come to school on time, 8 a.m.  They will spend some time previewing, viewing, and debriefing the film.  The advisory classes have then planned a field trip for the afternoon.  Students will be dismissed on time.
It with great sincerity that we welcome your feedback and look forward to your support!   MS 447 Admisinistration & Staff