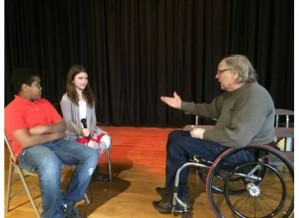 THE 'TAKE AWAY'
Friday, February 14th was an especially meaningful day for our 6th graders. On that day students and staff participated in a variety of activities. These ranged from designing superhero masks and identifying what 'superhuman' abilities we might like to possess, to discussing stereotypes people have towards others who exhibit physical or emotional differences. The day served to reinforce our individual capabilities as students chose activities they wanted to take part in, such as chess, relay races, drama games, and art activities. The day also incorporated our beginning to examine physical, social-emotional, and learning dissimilarities we find in our own community and our broader society.
We culminated the day with a wonderful guest speaker. John Hockenberry, prize winning journalist and radio commentator of public radio's 'THE TAKE AWAY'. John, who experienced an accident as a young person that resulted in a physical loss (paralysis), reinforced all that we wanted our kids to 'TAKE AWAY' from the experience.
Here are some of our student's thoughts about what they 'took away' from the day.
 "My 'takeaway' was that we should be proud of our differences and that which makes us unique."
 "We are all humans, and some with disabilities have abilities that we could never believe or have abilities that we could only dream of."
 "My 'takeaway' was don't just assume something about someone without knowing anything about the person or judge them just because of what they look like."
 "Love who you are, no matter what others might think or say."
 "My 'takeaway' was you can achieve anything, even if you are unique in your own way."
 "My 'takeaway' was that you should never assume anything about anyone. Also, be enthusiastic. And, be proud of differences and have self-pride."
 "Persevere."
 "You should always try to make the best of your situation."
 "My 'takeaway' was that even disabled people can do many of the same things others can do, and sometimes more!"
 "I know that we should accept people the way they are and treat them how they want to be treated."
 "You can persevere no matter what situation you're in, you can do anything anyone else can do."
Thank you to all staff and students, and to John – all of who made for a terrific day! Mili Katz