We hope that your Thanksgiving Holiday was filled with warmth, joy, laughter, and many blessings. We appreciate all of the hard work our parents do day in and day out and are humbled that you have chosen SONYC to assist in engaging your children a variety of fun academic and recreation-based activities after the school day.  
UPDATES
Enrollment
We do have space in our afterschool program if your child or a child you know is interested. Must be able to attend 4 days per week maintaining 80% weekly attendance and must like to have FUN! If interested please find an application on MS447.org or email, Antonio Capellan, Site Director,  acapellan@bigsnyc.org for an application. PH: 646-647-5862 
We will continue to follow up with those of you who have missing enrollment information in weeks to come. 
Snacks
A healthy snack will provided to all students participating in the program through School Foods program.
We understand students may prefer to obtain a snack outside of school in local grocery stores.  If needed, we ask students to bring items from home or purchase these items on their way to school as they are not permitted to obtain outside snacks during afterschool hours. When students leave school grounds they are outside of our liability and create safety concerns.  Thus, in order to ensure you child is safe we ask you to reinforce this message to them.
Incentives
From time to time BBBSNYC receives donations to select exclusive events.  This past November, Big Brothers Big Sisters of NYC received tickets to The Nickelodeon Halo Awards/ Concert which was aired on November 30th.  MS 447 was presented with 5 seats to the event.  The 5 participants with the best afterschool attendance were selected:
6th Grade  Camilla Grawonski, & Luke Daniel, 7th Grade Bianca Agosto, Imani Ashman, Jeffery Chen.
In the future we hope to offer more incentives for those who are attending regularly and participating fully in our activities.  Thus, we encourage your child to participate on a regular basis. 
Future Incentives may include but are not limited to Pizza Parties, Movie Trips, grab bag gifts & special guests!
Special Events: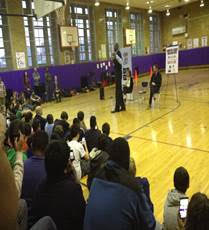 Photos by : Raymond Bethea, Group Leader
NBA Legend visits MS 447!
Dikembe Mutombo along with NBA Cares and Code.org visited Big Brothers Big Sisters SONYC Afterschool program at MS 447 to kick off Computer Science Week. 
The partnering agency Code.org believes computer science and computer programming should be part of the core curriculum in education, alongside other science, technology, engineering, and mathematics (STEM) courses, such as biology, physics, chemistry and algebra.  Thus, anyone can become a programmer as we utilize "coding" everyday via our computers, smartphones and tablets. Mr. Mutombo, Principal Rusch, and Jake Baskin from Code.org shared the importance of education and how ever-changing technology expands education.
Halloween
Take a look back at some at our participants dressed up during Halloween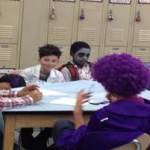 Upcoming Events & Holidays :
THIS FRIDAY

! Winter Dance: Friday December 12th 2014: We will have our 1st session activities (

2:20-3:45

) and transition participants to the MS 447 Winter Dance which will take place between

4:30pm -6:30pm

.  SONYC participants are welcomed to stay for the entity of the event but it is not required.  
Winter Arts Festival – Wednesday December 17th 6pm -7pm:  We encourage you to come out and support the MS 447 Arts Festival and see some amazing work that has been created by the students. 
Tuesday December 23rd 2014 – AFTERSCHOOL WILL OCCUR FROM

2:20- 3:45PM

EARLY DISMAL DUE TO WINTER RECESS
WEDNESDAY DECEMBER 24- January 2nd 2015.  Afterschool will be closed.  We will resume programming on Monday January 5th 2015. 

JANUARY 12- 16

WILL BE SHOWCASE WEEK.  PARTICIPANTS WILL SHOWCASE WHAT THEY HAVE LEARNED AND/OR CREATED WITHIN THEIR SELECTED ACTIVITIES DURING THE FIRST SEMESTER OF AFTERSCHOOL.  WE INVITE PARENTS TO COME IN AND JOIN THE FUN. A NOTICE WILL GO OUT WITH EXACT DATE AND TIME.  STAY TUNED
Monday, JANUARY 19TH MLK DAY– AFTERSCHOOL NOT IN SESSION
TUESDAY JANUARY 20TH – START OF SECOND SEMESTER.  THIS IS THE TIME WHEN YOUR CHILD WILL HAVE OPPORTUNITY TO SWITCH OR STAY IN ACTIVITIES.  The Second Semester runs from January 20th  2015 – June 26th 2015
Staffing/Structure:
All students begin the SONYC program with a nutritious snack provided by School Food and will then go into their 2 program activities (80 minutes each).  Students will end the Program day with Homework Help/Leadership Activities for 35 minutes before dismissal.
The SONYC Program has the following Staff structure:  Program Director, Educational Specialist, Activity Specialist for each activity, Group Leaders who will co-lead each activity, and a Program Aide.
Each activity will be supervised by one Activity Specialist and one Group Leader and will allow for a maximum of 30 students per session.
Weekly Activity Schedule
 Your child will have the opportunity to choose 2 activities per day from the list below:
Monday:Drama
Robotics
Stepping and Dance
Vocal Performance
Spoken Word
Dismissal: 5:35pm
Tuesday:
Computer Programming
DANCE FITNESS-NEW
Music
Spoken Word
Drama
Dismissal:  5:35pm
Wednesday:
Homework Help
Wrestling
Yearbook
Yoga
Debate
Dismissal:  5:35pm
Thursday:
Arts and Leadership
Basketball
Homework Help
Yearbook
Teen Group
Dismissal:  5:35pm
Friday:
Arts and Leadership
Cooking
Gardening
Makeup Design
Basketball
Dismissal: 5:15pm