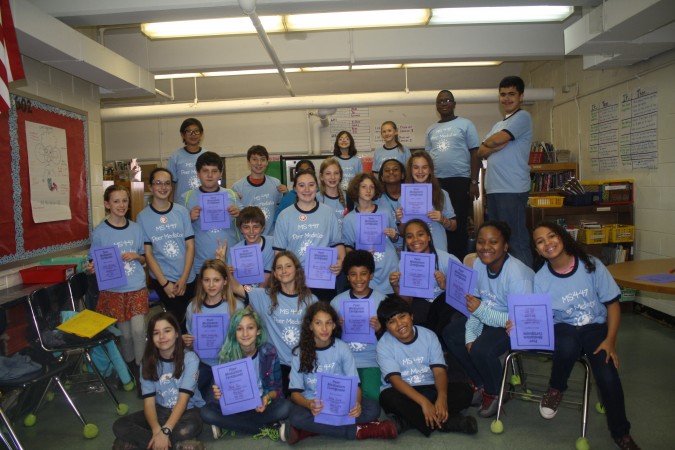 MS 447 is proud to offer a peer mediation program to help our students resolve conflict peacefully.
WHAT IS PEER MEDIATION? Peer mediation is a place where students can come to resolve their conflicts, and peer mediators – not teachers or other adults – are the ones who help them do it. Peer mediators are specially trained to help their fellow students work through conflicts in a positive way. We have approximately 30 peer mediators at our school, spanning all three grades.
WHY WOULD SOMEONE NEED MEDIATION? We all experience conflicts in our everyday lives. Peer mediation can help you solve or de-escalate a conflict before it gets out of hand and leads to something bigger. Mediations can happen between friends, classmates, acquaintances – even teachers and students. It is a way for both sides to tell their stories and work together to come up with a solution.
HOW DOES MEDIATION WORK? During a peer mediation, you will meet with 2 mediators and an advisor in the peer mediation room (Rm 332, in the guidance suite). Don't worry, everything said during a peer mediation is completely confidential – that means nothing you say during a mediation will ever be shared. You will brainstorm solutions and eventually sign a contract that explains the solution you have both agreed to. Mediation can help stop a conflict before it turns into something bigger.
HOW DO I REQUEST A MEDIATION? If you would like to request a mediation, please fill out an orange mediation request, which you can get outside of Ms. Katz's office, on the bulletin board outside the cafeteria, or outside of the guidance suite. You can download one from this website. You must turn it into one of the advisors – Ms. Grau (6th grade math teacher), Mrs. Corvinelli (guidance counselor), Mrs. Hughes (7th grade ELA teacher), or Ms. D'Onofrio (7th grade ELA teacher). After you submit your request, you will get a pass to come to mediation within 1-2 days.
We hope you will take advantage of the peer mediation program anytime a conflict arises that needs a resolution. Remember – conflict is a natural and normal part of life! Peer mediation can help you work it out, and keep our school a safe and positive place!
—MS 447 Peer Mediation Team