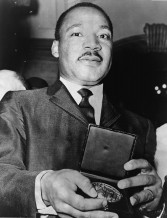 "Darkness cannot drive out darkness; only light can do that. Hate cannot drive out hate".
"Life's most persistent and urgent question is, 'What are you doing for others?' Only love can do that."
"Let no man pull you so low as to hate him."
"If you can't fly then run, if you can't run then walk, if you can't walk then crawl, but whatever you do you have to keep moving forward."
All words of Dr. Martin Luther King Jr.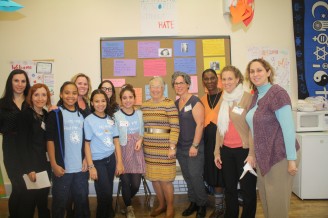 Dear MS 447 Community,
As you may be aware, on January 21st, staff and students participated in the school's Annual Peace & Diversity Conference. We are so pleased with the results and want to sincerely say it was a terrific event! The day was filled with whole school and grade specific events that promoted the many different cultures, ethnicities, beliefs, learning styles, abilities, family structures, and more – we are proud to represent. There was an emphasis on developing a profound reverence for our differences while maintaining an admiration for that which keeps us unified. It was 'school' at its BEST!
Specifically, you may have heard your child discuss some of the many happenings of the day. Among which were two school wide performances. The first highlighted Jared Campbell. Jared's Blue Project presentation provided inspirational and thought-provoking messages through original music. His message focused on over-coming obstacles, respect, and finding the motivation to lead a purposeful and happy life. Students were captivated, not only by the music and lyric but also by images that were projected and designed to bring the listener 'into' the songs.
The second, end of the day performance, was presented by HAI. Through dramatizations, dance, and song the ensemble showed students a variety of conflicts/situations they may face. These included ethnic and cultural bias, school and social pressures, and the consequences of miscommunication.
Classes also participated in meaningful group activities. These activities provided an opportunity and encouraged group members to get to know each other in a fun and engaging way. The activities addressed concepts of individuality and commonality as well as differences and challenges. They also demonstrated how it feels to exclude others as well as how it feels to be excluded. The event gave a structure for students to discuss issues concerning identity, personal bias, prejudice and discrimination.
The 6th graders had a speaker who was cancelled due to the stormy winter weather. That speaker will be rescheduled. They spent some time exploring the dynamics of 'social grouping' including the outcome of inclusionary vs. exclusionary behavior. The 6th graders also spent some time broadening their understanding of the term 'diversity' as well as become developing other common language.
The 7th grade watched the video "Flipped". They followed with meaningful discussion about overcoming stereotypes and prejudice. They also were given an exercise about strategies for handling touch situations – with smaller groups given different scenarios to share out about.
The 8th grade participated in a variety of activities depending on the class. Some classes learned about some past peaceful leaders or personalities, such as Martin Luther King Jr., Anne Frank, Harvey Milk and Matthew Sheppard – among others. They were prompted to think about what if these individuals were not killed. What contributions might they have then been able to accomplish. Other classes watched and discussed a video called 30 days. The film demonstrated what it might feel like to be discriminated against. I specifically addressed prejudices one might experience who is Muslim and another scenario where discrimination was a result of socio-economic status.
Students provided tremendous feedback about the day. They participated in the 'Vote the Quote' initiative. A plan to incorporate quotes based on student and staff input on a new school mural. Students also expressed a desire to have more of these types of 'themed' days and more of an opportunity to share about themselves and learn about others.
On another positive note, the school was visited by some extremely distinguished guest. Newly appointed school's Chancellor, Carmin Farina, spent a considerable amount of time going in and out of classrooms, talking with students and staff. She left the school with words of encouragement and gratitude. We truly have a new friend at the helm of the DOE! The school was also honored by Steve Levin, our local councilman. Councilman Levin is always a willing and able advocate of our school and frequents our school regularly. We were also visited by Tala J. Manassah, Deputy Executive Director of Morningside Center for Teaching Social Responsibility. Morningside has been playing an integral role in our school's movement toward increased Social Emotional Learning and in our infusing SEL philosophy into our schools values and operations. Also, attending the day's events was Jeff Horne who is our Boroughs Safety Administrator. Jeff is always available to respond to the needs of the school. Finally, a number of PTA members and others in our parent community joined. Thank you to all that attended and to all those who could not yet simply showed appreciation and provided such affirmative feedback.