Friday, March 21st is student government's hat day, benefitting Caps For Kids. Caps For Kids is an organization that provides kids diagnosed and undergoing treatment for cancer or receiving chemotherapy to treat other life threatening illnesses a cap autographed by the athlete, entertainer or other notable celebrity of their choice. Bring $1 and wear your hat Friday, March 21st to support Caps For Kids. The organization helps kids like Megan: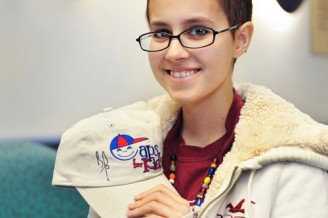 Megan Garcia received an autographed baseball cap from Brad Pitt in the mail shortly after learning that she has a brain tumor at the age of 14. "That meant a lot to me," Megan said. "I was just like, 'Oh my gosh! I just got a hat signed by Brad Pitt!' It just boosted my spirits.'"
Strong spirits have played a big role in Megan's so-far-successful battle against cancer. Help support kids like Megan, by bringing $1 and wearing your hat all day. Students participating will also receive a Caps For Kids sticker to wear.