We invite you to join the Expo Team for A Taste of 447.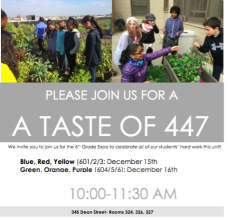 "A Taste of 447" 6th Grade Expo – Food Donation Guidelines
 We hope that you received the invitation to the upcoming 6th Grade Expo (paper copies will go out at Expo next week). Thank you so much for your willingness to contribute food for our end of unit celebration! As you know, students have worked hard to create recipes using local, seasonal ingredients, and at Expo they will be presenting their restaurant menus and concepts. Part of Expo Day will consist of two rounds of tastings, in which students and parents can explore restaurant groups and sample their recipes! To make this a successful, authentic experience, we are hoping that each group will have some food to offer and share. Here's what you need to know:
Do we have to bring food?

No student is required to bring in food on Expo day. Students will not receive a grade based on whether or not they brought in food. If your family is not able to contribute a dish for our Expo, we hope you will still attend Expo to help celebrate our students' hard work.

What should we bring?

Ideally, students will bring in the dish that they created a recipe for and wrote about. However, we understand that this may not be possible for everyone. If you cannot donate that dish, your child can choose another dish from the restaurant menu to prepare, or one that would fit the restaurant's concept.
**We are asking that all dishes be entirely nut free**
How much food should we bring?

As a rough guideline, we are asking that you prepare enough food so that 30 people could sample it (a sample is not a meal-sized portion, just a bite or two). If that's too much, prepare less. Use your judgment and know that we will be grateful for whatever you can contribute!

How should food be presented?

Your child will serve the food in sample-size portions, so if you can cut or prepare food in advance to facilitate this process, that would be a huge help! We do have a couple microwaves available, but please be prepared for food to be served at room temperature.

What else do you need?

Please send your child with any utensils needed to serve their food (big spoons, spatulas, etc). Label dishes and utensils clearly so that we can return them to you!

We need paper goods for students to use to serve their samples. This includes:

Small napkins

Small paper plates

Toothpicks

Small cupcake liners/small dixie cups
We're trying to create as little waste as possible, so please keep that in mind when deciding how to serve your samples. Any and all donations of these types of products would be very welcome. Please send them to your child's Exploration homeroom BEFORE the Expo if possible, so that we know in advance what kinds of supplies we have.
We would also love if you can share a photo or two of your child preparing the dish. You can email photos to ms447exploration@gmail.com. We would like to create a slideshow of pictures for the Taste of 447.
Thank you families for all your support so far this year! We can't do it without you. We hope to see you on Expo Day:
601/2/3 (Blue Room 324 /Red Room 326 /Yellow Room 327): 12/15 at 10:00 a.m.
604/5/6 (Purple Room 327 /Orange Room 326 /Green Room 324): 12/16 at 10:00 a.m.